The 1970s and 80s were a golden age for tabletop simulations, whether you wanted to recreate your favorite sport, explore dungeons and fight monsters, lead armies into battle, or do just about anything else. That environment was perfect for Jim and Tom Trunzo's foray into the world of gaming with the 1979 release of their Title Bout Championship Boxing tabletop game.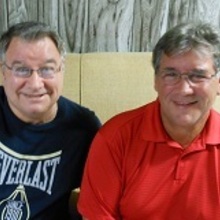 Jim and Tom Trunzo
"My brother and I grew up playing all the basic sports simulation games on the market, everything from Negamco to APBA to Strat-O-Matic to Big League Manager." Jim Trunzo recalls. "The problem was that aside from a very basic boxing game that was produced by Negamoco, there really wasn't a decent representation of our favorite sport, pro boxing. So, with the confidence and arrogance of youth, we decided to create our own."
He continues: "Ironically, the problem was not creating the fighters or the playing mechanics because we knew the sport and we knew games. What was throwing a roadblock in our path was an 'activator.' Dice and spinners were just too slow to give the right feel to the flow of a fight."
Enter Statis-Pro Games founder Jim Barnes. "What happened next was almost beyond fortuitous," Trunzo says. "Jim Barnes started producing games via his Statis-Pro Games company, using a 'Fast Action Card Deck' in place of the standard dice and spinner. You had a deck of cards, with random numbers on each card, and took one reading from a card, quickly flipped it to get the next reading, etc. That was the key to making our boxing game work.
"I contacted Jim and received his blessing and encouragement to use his system, which wasn't patented. Then I called Nat Loubet, editor of The Ring Magazine and a recognized boxing historian, and asked him to rate 50 heavyweight fighters for us in a few dozen categories. After listening to our plan to develop a boxing game, he said that he and his assistant editors would do it for us. Randy Gordon, a wonderful man who eventually became - besides an outstanding boxing writer - commissioner of boxing for the state of New York, did most of the work."
Title Bout Championship Boxing was born, and when Barnes offered to sell it through his Christmas mail order brochure in 1979, "it was a surprisingly big success," Trunzo says.
The Stars Converge
"The next year," Trunzo continues, "we created 220 fighters covering the eight major divisions of boxing. We decided to invest a few thousand dollars (big money back then) and sell the game under the title of Truco Boxing (TRUnzo COmpany - pretty clever, huh? LOL). We barely made our money back because at the time, we had little understanding of marketing and no real money to advertise."
The fickle hand of fate had knocked the Trunzos' game to the floor, but that same hand also helped revive it to battle through more rounds. "The stars converged," Trunzo remembers. "Avalon Hill Game Company was the king of board games at the time. Their specialty was war game simulations, from ancients like Alexander and Ceasar's Legions to modern World War II battles. They also had a line of family-oriented board games and had dabbled in some generic sports games.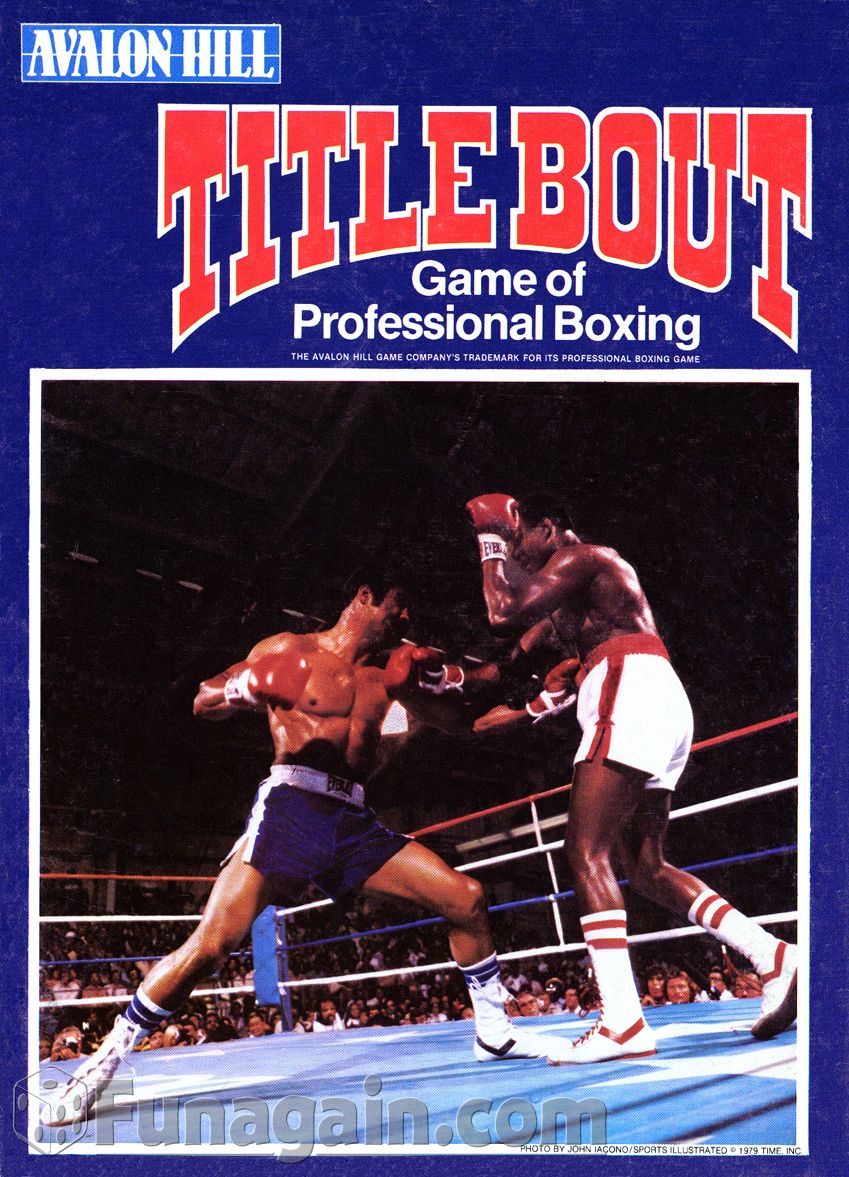 Title Bout by Avalon Hill
"Eric Dott and his son Jack, owners of Avalon Hill, decided that they wanted to get into the sports simulation line and take on Statis-Pro and APBA. Avalon Hill teamed with Sports Illustrated and the two companies set a plan in motion. They acquired the rights to produce Jim Barnes' entire sports line of Statis-Pro games, and in the process Jim told them about these two brothers who had designed a great boxing simulation and were producing it on a very small scale.
"Avalon Hill, who wanted to have a game to represent every major sport (and boxing still was at that time), contacted us. Within a year or so, Avalon Hill/SI Title Bout: The Game of Professional Boxing was rolling off the assembly lines. For 19 years, the game was a solid seller and became a bit of a cult classic."
The Long and Winding Road
No industry is safe from the relentless march of technology, however, and the mid-to-late 1980s saw the rapid rise in popularity of computer and arcade games. Trunzo recalls: "Eventually, Avalon Hill went into a decline, as did many game companies, and they started to trim titles. Some companies over-extended themselves, others ignored computer games and fell behind, and so forth. At any rate, the game rights, but not the name of the game, returned to us."
The Trunzo brothers soon turned to a small company, Lance Haffner Games, run by its namesake and one DOS programmer, Shannon Lynn. Trunzo says: "We joined the Haffner company and in 1990 they produced a computer text simulation of our boxing game, this time titled TKO Boxing. Once again, the game was a very impressive success for games of its type and we stayed with Haffner for a number of years. However, DOS soon became outdated and Lance Haffner Games couldn't, at the time, do Windows programming."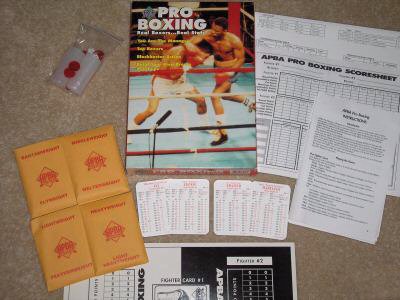 APBA Boxing
He and his brother again began wandering through the wilderness, Trunzo says. "That began a confusing journey for our product. We aligned with the APBA game company and in 1994 produced a rushed and flawed product, APBA Boxing, that tried to emulate the APBA 11-66 dice system. The game had potential and I think would have turned out okay, but APBA suddenly ran into problems with lawsuits and other issues, and we once again had our rights returned to us."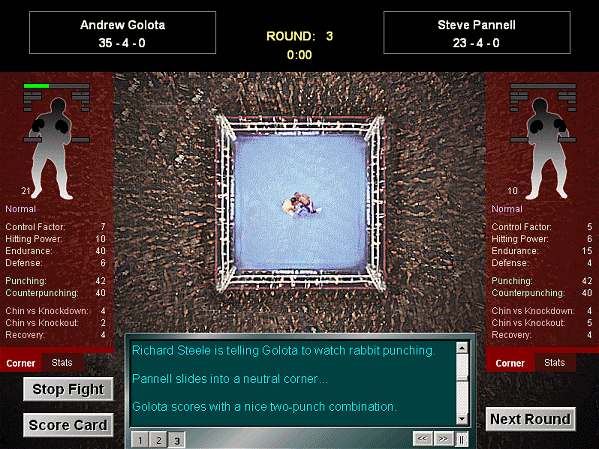 Title Fight 2001
Comp-U-Sport stepped into the void in 2001 with the release of Title Fight 2001, which kept the Trunzos' game alive. Trunzo recalls that a few years later, the number of fighters in the game's database had grown to over 5,000, and he and his brother decided to sell the game's rights to OOTP Developments, which released Title Bout Championship Boxing 2 in 2005, followed by a version 2.5 update in 2008. In 2013, OOTP Developments sold the rights to P.I.S.D. Ltd., and Title Bout Championship Boxing 2013 was released that June.
Title Bout Championship Boxing 2
by Out of the Park Developments

Title Bout Championship Boxing 2.5
by Out of the Park Developments

Title Bout Championship Boxing 2013
by P.I.S.D. Ltd
So Goes Boxing
Trunzo now follows the game's progress from afar, noting the old saying, "As goes the heavyweight division, so goes boxing." He says: "Right now, the heavyweight division is probably at its weakest, certainly no better than its previous nadir when you had guys like Dokes, Thomas, Page, etc. heading the list. The division had always had one or two truly dominant fighters that commanded the public's attention: Dempsey, Louis, Marciano, Liston and then the amazing Muhammad Ali. Following Ali, things went south until Mike Tyson revived interest in the heavyweights. Holyfield managed to keep it afloat for a bit, but that was it.
"Boxing was lucky to make it to Tyson, in a way. The huge gap created by the absence of Ali/Fraizier/Foreman was filled by the mind-boggling talent and charisma of Sugar Ray Leonard, Tommy Hearns, Roberto Duran, Marvin Hagler, Wilfredo Benitez and a dozen other exciting fighters from other divisions who emerged all at the same time."
How, then, to create new boxing fans and, in turn, create new fans of boxing simulations? "The boxing fan demographics are absurdly skewed toward a much older audience," Trunzo remarks. "You have very few fans under the age of 40 and even fewer among the hardcore game buyers, who are in their teens-20's. Of the fans that do exist, they demand the type of things gamers have always demanded: realism and the kind of graphics that at least give you some sense of verisimilitude."
He adds: "You also have two camps: those who want to do nothing more than replays; and those who want to be very active during the course of play - which is why we added strategies (which I never liked because of how they skewed my ratings) to the game and were going to add a management module (which I did like) to enhance the participation of those who played the game."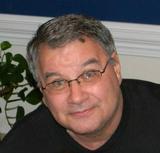 Interview with Jim Trunzo
The Future
A management module is planned for the next edition of Title Bout Championship Boxing. In the meantime, Trunzo and his brother have a new tabletop boxing game in the works, one that will revive interest in simulating bouts during those times when you need to step away from the computer or one isn't handy. These are interesting times for boxing sim fans.