Saved games
Saved Games
You may create as many games (universes) as you wish. Your saved games will be located at \My Documents\Out of the Park Developments\TB 2.5\Saved Games. These files will not be removed or over-written during a re-install or new installation process. Backups of your saved games will be automatically generated every time when you open the database, but it is strongly recommended that you make additional backup copies of these folders on another media, for example on a CD. Making backups is always a good idea!
Saving a game
You may save your games in one of two ways. First, with an open game (universe), you may click the 'Save' button at any time. This button is located at the top right under the records section of the main game screen. Second, you will be asked to save when exiting a game by clicking the 'Close' button located in the bottom right corner of the records section. The program will place a time stamped backup file in your saved games folder. These backups will be auto-managed to save the ten most recent files. Both buttons are shown in the screenshot below.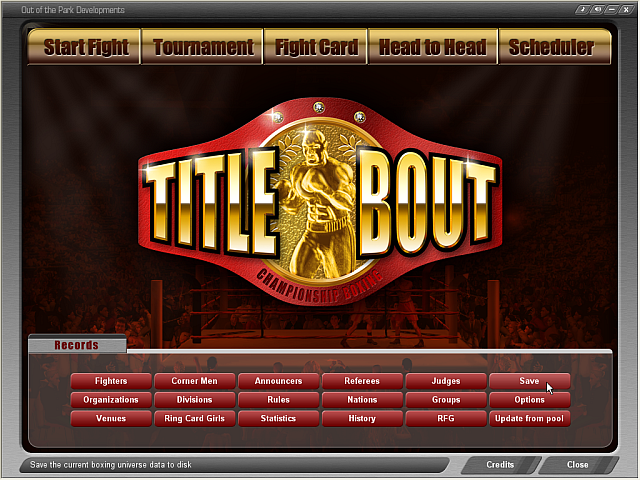 Opening an existing game
You may open the last game played which will always appear in the large top button found on the main TBCB 2.5 screen. You may also open any previously saved game by clicking the 'Load Saved Game' button located to the left just below the continue last game button. A message box will appear listing all available games. Select one and click 'OK' to open the desired game.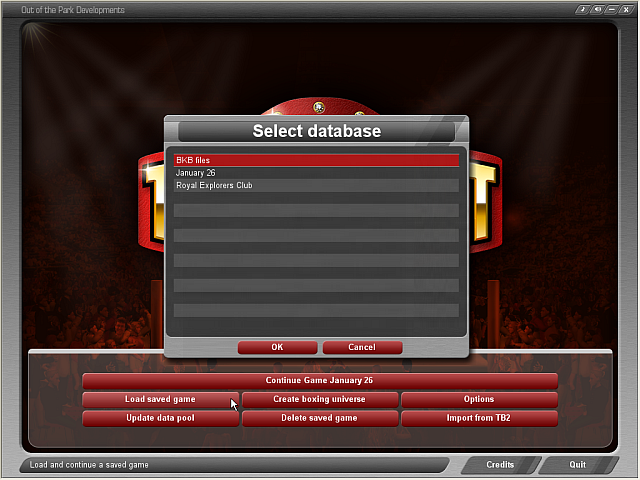 Deleting a saved game
To delete a saved game you can click the 'Delete Saved Game' button located in the middle bottom section of your main TBCB 2.5 screen. Select the database (game) that you wish to delete from the message box that will appear and click 'OK'.
To ensure that game databases are not deleted accidentally, you will be presented with a second message box as shown below. Type the word 'delete' in the input box and click 'OK' to delete the game.