New database structure
New Database Structure
Title Bout Championship Boxing 2.5 features a dynamic default database which can be updated by you at any time. The updates are stored in an on-line fighter database located on the OOTP servers. The database can be viewed and searched via a web interface at http://tbdata.ootpdevelopments.com/ or can be accessed directly from within the TBCB 2.5 game.
The default database is referred to as 'The Data Pool' and is located on your PC at \My Documents\Out of the Park Developments\TBCB 2.5\DefaultData. The Data Pool acts as a reserve of fighter files that can be drawn upon to build or augment a universe but is separate from any user-created universe. In other words, regardless what you may do with or to the fighter files within a universe that has been created, the Pool will always retain an up to date version of the file in pristine condition.
Updating the Pool
From the main screen (prior to opening any universe games) single click the Update Data Pool button located in the lower left corner of the screen. TBCB 2.5 will go to the on-line database and search for any updated bio files, personal fighter information or rating records. It then will download what it found and update your Pool. A message box will appear telling you what has been updated as shown below.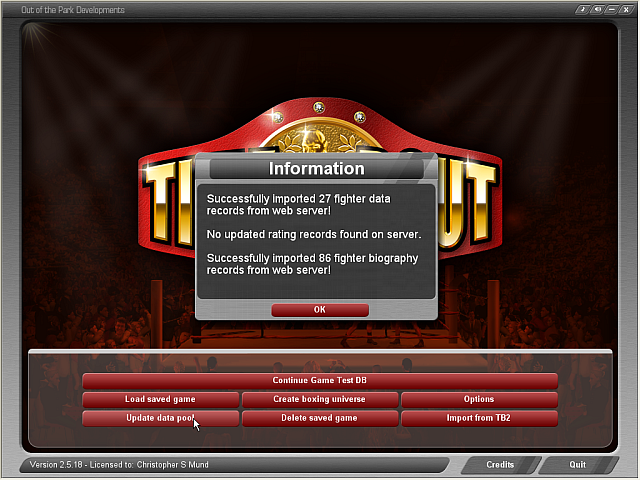 Updating your boxing universe from the Pool
Once the Pool has been updated, any universe game may be updated from that pool. It is important to note that any update to a universe will not overwrite fight histories or stats. Personal information (fighter records), bio notes and updated rating records will be added to the files but in-game fight histories your user notes will remain un-changed.
To update from the Pool within a universe, click the 'Update from Pool' button located in the lower right corner of the main universe game screen. The Fighter Filter screen will pop up allowing you to filter what fighters you wish to update based on sex, division and career start year. In the screenshot below, all fighters have been selected for potential update.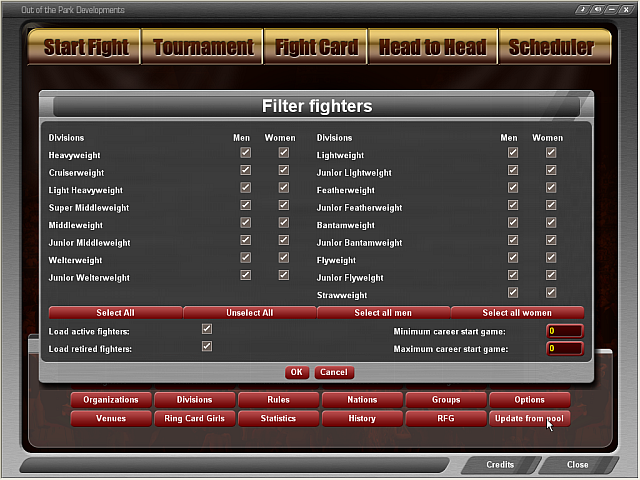 By clicking 'OK' the game will check your local Pool for any files that have been updated based upon your filter criteria and will update those files only. Once completed, a message box will tell the user how many fighter records (personal information), rating records and fighter bios have been updated or added. Clicking 'OK' will bring you back to the main universe game page.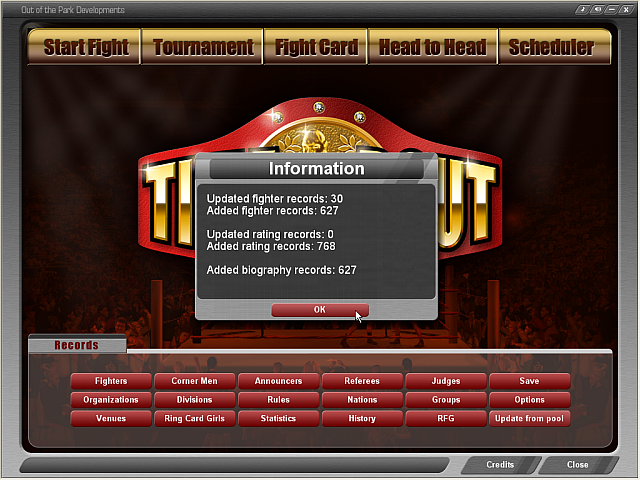 Those fighters with multiple rating records are indicated in the main fighter selection screen with a yellow entry in the Career Stage column.