New auto aging sequence
The auto-aging feature works essentially in the same way it did for TBCB 2.0 with one major exception. The game now generates a career stage rating record if no other rating is available for that stage and sets it as the default rating record while the fighter is at that stage. Previously, this was a hidden functionality; with TBCB 2.5 you can now see the rating and even alter it if you are not happy with it.
Here is how it works:
With your desired universe (or game) open, click on the Options tab in the lower right corner as shown here.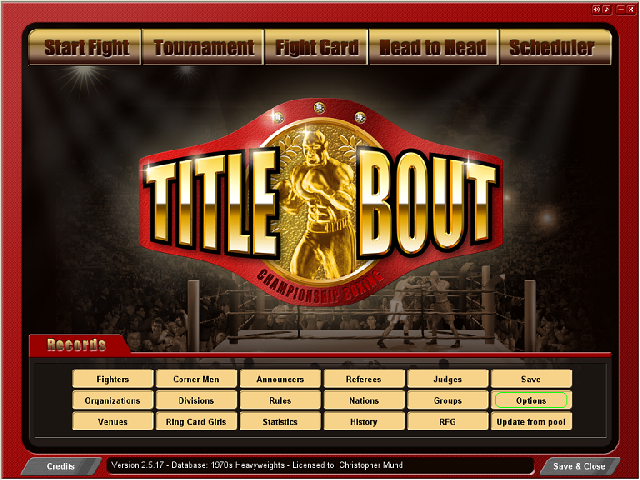 Select the Aging tab as shown below. Check both boxes at the top of the screen. The always inform box is important if you want to receive pop-up notifications as your fighters advance to new career stages.
Select the minimum and maximum number of bouts that you wish fighters to have before advancing to the next career stage by simply placing the appropriate numbers in the boxes provided.
The total of all the minimum and maximum bout selections that you make will determine the total number of bouts that your fighters will amass in their careers. In the example below, fighters will have careers that range from 24 to 59 bouts but you may make the ranges as small or large as you desire.
You can activate auto aging for all fighters in your universe with the button at the bottom or do it later selectively. You can press the Calculate next aging button if you have re-set the aging after starting a universe and want to start the clocks again.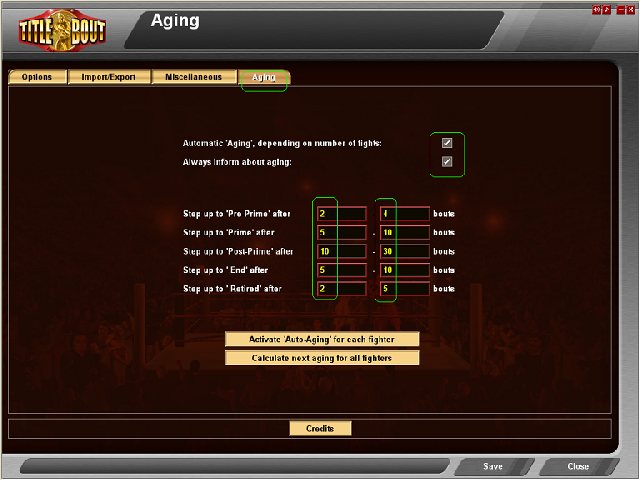 At the fighter screen, check the box to the left of each fighter that you want to activate and set to a beginning career stage. Then, from the right side menu, select the mass edit feature. The box shown below will appear giving you a number of mass edit selections. In this case, we want the selected fighters to be active (as opposed to retired), to have Auto aging applied and to be set to beginning. The screenshot below indicates these selections.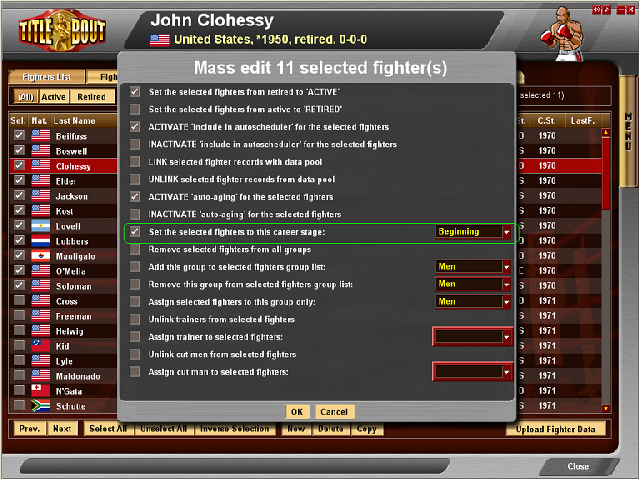 When a fighter changes career stage a message box will pop up notifying you as shown below: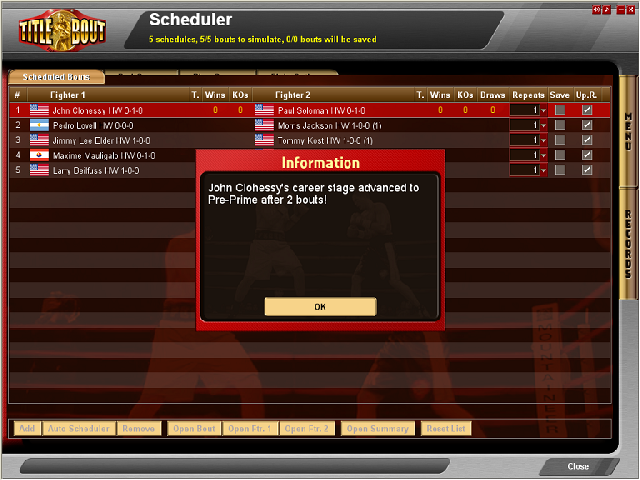 When the stage is changed, the game will first look for a matching rating record, if one is not found it will auto-generate one for you as shown below. Note that the new career stage rating record has also been auto-selected as the default rating record to be used.